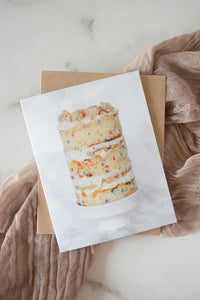 Birthday - 3 Pack
A 3-Pack of the happiest birthday card you ever did see! 
Cake was made by my friend Brianna, and it tasted as good as it looks! This is the perfect card to keep on hand for birthdays, and all celebrations you might need a last-minute card for! 
You will receive 3 cards (5.5x4.25") and 3 Kraft envelopes with a deep matte finish.
Free shipping on every order! 
Automatic 10% Discount on orders of 2 or more products!